Stainless Steel Pipe

Product Standards

Food Grade Sanitary Tube: JIS G3447, KS D 3585, ASTM A270, EN 10357(DIN 11850), AS 1528.1, ISO 2037(NF A49-249)




Heat exchanger tube: ASTM A249 / ASME SA249, GB / T 24593-2009, HG 20537.2




Industrial pipe: ASTM A312, EN 10217-7, GB / T 12771-2008, HG 20537.3




Drinking water tube: GB / T 19228




Mechanical tube: ASTM A554, EN 10296-2

Production Size

Outer Diameter Range: 9.5~2000mm
Thickness Range: 0.5~20mm

Length: Up to 18.3 meters per piece.

(Size can be customized)


Shape sections of tube

Round, square, rectangular

Usage of tube

Sanitary tubing: for food processing industry, beverage industry, sugar mill and so on;

Heat exchanger tube: condenser, boiler, super heater, evaporator and so on;

Industiral pipe: for petroleum delivery, gas delivery, petrochemical industry, wastewater treatment, drainage system, and so on;

Mechanical tube: handrail, railings, balustrade, hence and so on.



Stainless steel pipe is a hollow long round steel, which is widely used in petroleum, chemical, medical, food, light industry,
mechanical instrumentation and other industrial pipelines and mechanical structural parts. In addition, when the bending and torsion strength are the same, the weight is lighter, so it is also widely used in the manufacture of mechanical parts. and engineering structures.Also often used as furniture and kitchen utensils.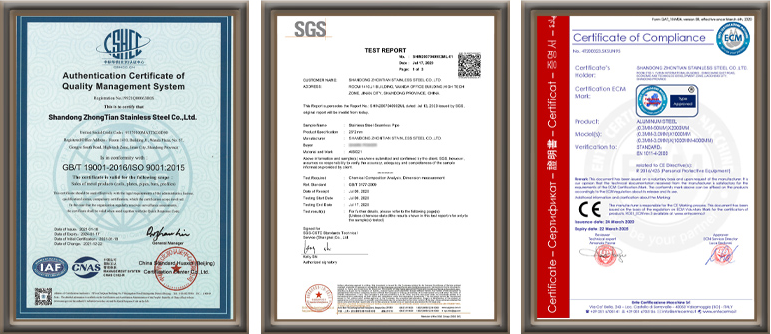 ZhongTian Steel Co., Ltd is located in Shandong Province . It is one of steel bases in China. Our factory covers an area of 100,000 square meters. We are one of the Shandong steel manufacturers.

Our main products including stainless steel pipe ,stainless steel plate , stainless steel bar , stainless steel coil , galvanized sheet,galvanized pipe,carbon sheet,aluminium sheet,aluminium pipe Etc.